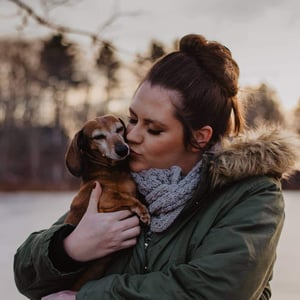 For over six years, I have had the privilege of pursuing my passion of photography as a full-time career. I hail from the quaint town of Corinna, Maine and my work has taken me all across the state. It has been an incredible journey and I have thoroughly enjoyed evolving my skills in the ever-changing world of photography.
After graduating with a degree in business management and small business development in 2012, I took to exploring my hobby of photography. By 2016, my talent and passion had enabled me to make photography my profession. Every day I have the pleasure of documenting amazing moments that are sure to last a lifetime.
When I am not working, you will likely find me near the Maine coast, sitting by the fire, or out in nature reading a book, kayaking, or hiking with my furry companion Indy. My favorite spot to relax and rejuvenate is at Acadia National Park.
My craft as a Maine wedding photographer requires me to find the right balance between my technical know–how, such as understanding the right exposure, aperture, and ISO settings, and my creative eye. With a style characterized by dark and moody elements, I am able to create evocative images that truly capture the beauty and emotion of each wedding. It is a beautiful combination of my creative artistry and my technical mastery.