By some divine force, you possibly searched for Maine Maternity Photography, and landed here! And for that, I am so thankful. Documenting your growing body as your baby grows inside is always special. People absolutely LOVE getting dressed up or dressed down for photos, they enjoy the experience of embracing their bump, talking about how their pregnancy has been, and even their birth plan. The time you are expecting always seems to fly by so fast, so try to book your maternity photos early in your pregnancy to ensure a spot on my calendar!
Maine is a beautiful state with a stunning natural landscape that provides the perfect backdrop for capturing beautiful and memorable maternity photos. If you're expecting a new arrival, investing in a professional Maine maternity photographer is a great way to capture this special time in your life in a way that you'll treasure for years to come.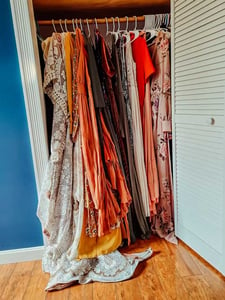 A professional Maine maternity photographer has the skills and experience to capture the unique beauty and joy of pregnancy. They can help you choose the best locations, poses, and lighting to create stunning and timeless images that celebrate this exciting time in your life. Whether you're looking for classic, elegant portraits or more creative and unique shots, a professional maternity photographer can help you achieve the perfect look and feel for your photos.
Beyond capturing beautiful images, a professional Maine maternity photographer can also help you feel comfortable and confident during your photo shoot. Pregnancy can be an emotional and vulnerable time, but a skilled photographer can help you relax and feel at ease, resulting in photos that truly capture your unique beauty and spirit. They can also work with you to incorporate any special props or elements that you'd like to include, such as family heirlooms or personal items, to make your photos even more meaningful and special.
In summary, investing in a professional Maine maternity photographer is a wonderful way to capture this special time in your life in a way that you'll treasure forever. With their expertise and artistic vision, a professional photographer can help you create stunning and timeless images that celebrate your unique beauty and the joy of your pregnancy. So, don't hesitate to book a professional maternity photo session and create memories that will last a lifetime.
Style
My images lean towards a dark and moody style. When looking through my photos, it is evident I have mostly high contrast images. There are also a lot of beautifully unique compositions as well as emotional images. Using contrasting colors as well as neutral tones is part of my style too. I use outfits that do not have words or pictures on them. I also have a maternity dress closet for people to choose from. I love dresses that are textured as well.
What to wear
I offer a very diverse and fun client closet for people to choose dresses and fabrics from. I also am comfortable and happy to photograph nude maternity as well. You can also bring your own outfits and dresses as well. I recommend choosing very simple clothing with no graphics so there is nothing too distracting. I also email a detailed prep guide after booking!
Location
Some people like to visit Acadia National Park for their maternity photos, or we can do them around your home or at a park in Corinna, Maine. Sometimes people rent out a space for a baby moon with their partner before welcoming the baby, and we take pictures there. If possible I advise and guide your selection of space for the best quality images.
Skillful editing
Photos are best when I am able to take the time needed to edit. I edit each photo individually with great pride. After the maternity session, I choose only the best photos for your finished gallery. I pick the best ones with the most beautiful light, smiles and details. The post-process editing typically takes 2 weeks. Once you receive your digital album, you can order products and prints for your walls.
Scheduling
I recommend parents schedule their maternity session after you are 12 weeks along. Maternity photos are best when you are between 32 and 36 weeks because that is when you are definitely showing and not too uncomfortable or at a place of possible early labor.