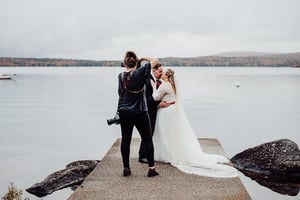 Somehow the stars aligned, and you landed here looking for Maine Wedding Photography. Lucky for you, this is the greatest place for just that! I specialize in documenting the fleeting moments that seem to fly by, the little tiny milliseconds that otherwise gone unnoticed can be saved forever in an image and shared for generations to come.
Whether you are eloping in Acadia with just a few of your close loved ones or throwing a large traditional wedding with hundreds anywhere in Maine or New England, I promise to create and deliver the most stunning images that reflect the most important day of your life. If you need full direction or no direction at all, I am here for you to help guide you through it all.
I focus on the details, the emotions, and the people. I work hard to reflect your wedding in the most accurate and beautiful way. I have photographed over 100 weddings and bring a lot of wisdom to the planning and flow of the day as well. Couples feel at ease knowing they have a reputable, and experienced photographer to work with. Celebrate your love in the moment, being present, with no worries about poses, angles, or light. Leave this to the professionals and enjoy being with those you love.
I absolutely LOVE creating the most unique experiences with each couple on their day and creating images that reflect just that, are the cherry on top of an already amazing event. I like to think of it as collaborating with your love. My photography mixed with your love creates images that stop time. My images are dark, moody, raw, and emotional. Years in the wedding industry has given me an advantage in the planning process to ensure a smooth wedding day.
All forms of love are accepted and welcomed as well!
Let's create the most epic love story of all time!